MOVING
NEW IDEAS FORWARD
In his bestselling book Backable, Suneel Gupta explains that the key to success is not talent, connections, or ideas, but the ability to persuade people to take a chance on your potential.
There is a reason that some people can get investors or bosses to believe in them while others cannot. Thankfully, the reason has little to do with experience, pedigree, or a polished business plan. Backable people seem to have a hidden quality that inspires others to act.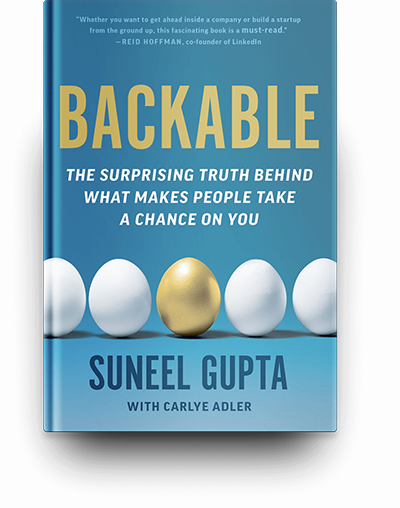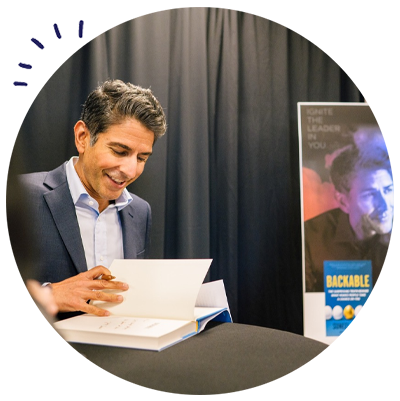 WHY NEW IDEAS?
Drawing lessons from hundreds of the world's biggest thinkers, Suneel discovered how to pitch new ideas in a way that has raised millions of dollars, influenced large-scale change inside massive corporations, and even convinced his eight-year-old daughter to clean her room.
Inside Backable are long-held secrets from producers of Oscar-winning films, members of Congress, military leaders, culinary stars, venture capitalists, founders of unicorn-status startups, and executives at iconic companies like Lego, Method, and Pixar.
Backable reveals how the key to success is not charisma, connections, or even your résumé, but rather your ability to persuade others to take a chance on you. This original book will show you how.
PRAISE FOR BACKABLE
"This book is catching fire! So many people are coming out of #COVID wanting to launch new ventures. This book is a great guide, full of pearls of wisdom. #Backable 🔥 🔥 🔥"
Van Jones, CNN Host and Emmy Award Winner
"This is the quality I look for most in leaders and entrepreneurs. Whether you want to get ahead inside a company or build a startup from the ground up, this fascinating book is a must-read."
Reid Hoffman, Cofounder of LinkedIn
"The most exceptional people aren't just brilliant…they're backable. This remarkable book can be your secret weapon for bringing your idea to life."
Daniel Pink, #1 New York Times bestselling author of "When, Drive, and To Sell is Human"
"This book is truly brave. I felt like I was sitting with Suneel as he unveiled secret steps that anyone can take to stand out and achieve their dreams."
Reshma Saujani, Founder and CEO of Girls Who Code, bestselling author of Brave Not Perfect
"Being backable isn't just for celebrities and CEOs. It's a required skill for anyone who is trying to make it in the world. This book will change the trajectory of careers, launch new ideas into the world, and inspire cocktail party conversation for years to come."
Jennifer Aaker, General Atlantic Professor, Stanford GSB. Author of Humor, Seriously and The Dragonfly Effect
"This book demystifies the "x-factor" I look for in anyone I work with. Whether you're building a movie or a company, this indispensable guide will change how the world sees you—and how you see yourself."
Brian Grazer, Oscar-winning producer and #1 New York Times Bestselling author
"Backable provides a super-readable and actionable look at how to make your ideas take flight. Whether you're pitching a brand-new startup or an idea for your company's next product, you'll find a wealth of insights and stories throughout."
Mike Krieger, Co-founder of Instagram
"The best founders and leaders don't just have great ideas, they know how to inspire other people to take a chance on them. Suneel Gupta reveals the secret steps anyone can use to become Backable."
Amy Chang, Founder of Accompany, EVP at Cisco, Director at Procter & Gamble
EVERYDAY DHARMA: COMING SOON!
Suneel Gupta's upcoming book "Everyday Dharma" (HarperCollins, Sep '23) offers readers timeless techniques for finding happiness, while creating great work.